2017 SPECIAL PROJECTS
Each year, ART X Lagos includes a series of Special Projects that highlight today's most experimental mediums and the multidisciplinary artists working in them. The practices of these artists often fall outside of commercial remits and conceptual considerations of contemporary life which further enrich the atmosphere of ART X Lagos.


2017 CURATED PROJECT


Celebrating Ben Enwonwu,
Modern Artist & Pioneer
Courtesy of the Access Bank Collection

To mark the 100th natal anniversary of Ben (Benedict Chukwukadibia) Enwonwu MBE, ART X Lagos, courtesy of the Access Bank Collection, presented to the general public for the first time ever in Nigeria, seven wooden sculptures commissioned by the Daily Mirror in 1960. The newspaper-bearing group of figures, each with unique gestures and expressions, were sculpted by the modern art master more than half a century ago for the newspaper company's London headquarters.

---
2017 CURATED PROJECTS
Rahima Gambo
Rahima Gambo lives and works in Abuja, Nigeria. In her long-term project, Education is Forbidden, the interdisciplinary artist and journalist presented a contemplative picture on the spectre of the Boko Haram conflict, the nature of memory, and the consequences of colonial education in north-eastern Nigeria.

---
2017 CURATED PROJECTS
Lemi Ghariokwu & Jazz Hole
Lemi Ghariokwu lives and works in Lagos, Nigeria. The celebrated artist, illustrator and graphic designer, coined "the King of Covers" (The Observer Music Monthly, 2004), is internationally renowned as the mastermind behind 26 record jacket artworks for Afrobeat legend, Fela Anikulapo Kuti. Two decades following the musician's passing, this retrospective looked at the unique interplay of aesthetics and the Nigerian socio-political climate of the 1970s in Ghariokwu's art featuring a selection of the notorious albums, in tandem with rarely and never-before-exhibited archival documents, sketches, and photographs from the artist's private collection.
---
2017 CURATED PROJECTS
Olu Amoda
Olu Amoda lives and works in Lagos, Nigeria. The mid-career artist presented new works, two large format assemblage sculptures which are part of the artist's capsule series. Titled Speckle and Eye IV respectively, the dome-shaped artworks manifest what the artist describes as "the aura of the fifth dimension".
---
2017 CURATED PROJECTS
Bofa Da Cara
Bofa Da Cara is Nástio Mosquito and Pere Ortín, a duo whose audio-visually driven practice works with truth, lies, and perspectives. This two-part film screening presented artworks engaging with the relationship and evolution between language, and particular worldviews. While My African Mind looked at the colonial gaze and mental slavery, its sequel of sorts, My European Mind, humorously asked the serious question – "Why not rebrand Europe?"
---
2017 CURATED PROJECTS
Yaw Owusu
Yaw Owusu lives and works in Accra, Ghana. The emerging artist's sculptures, fashioned from an otherwise worthless material – the 1 Pesewa coin – presented glittering totems wryly questioning the failures of Ghana's ongoing infrastructural development, all the while engaging complex notions of value, exchange and locality in an increasingly global environment.

---
2017 CURATED PROJECTS
Johnson Uwadinma
Johnson Uwadinma lives and works in Port Harcourt, Nigeria. The emerging artist presented Amnesia, a site-specific mixed media installation that reflected on memory, the dynamics within Nigerian historiographies, and the difficulties associated with transcending collective memory. Established in 2014 by Zina Saro-Wiwa, Boys' Quarters Project Space is a Port Harcourt-based contemporary art gallery committed to producing powerful, fresh storytelling and in-depth reflections on Niger Delta inner life and environments.
---
2017 CURATED PROJECTS
The ART X Absolut Commission
The inaugural ART X Absolut Art Commission invited Olatunde Alara, an artist living and working in Lagos, to respond to the theme of The Artist as Citizen. Responding to present day societal urgencies, Alara's site-specific installation and public engagement project SMILE addressed the spectre of mental illness, a taboo topic. Absolut supports freedom of expression, and for the voices of the unheard to be heard.
---
2017 CURATED PROJECTS
Wura-Natasha Ogunji
Wura-Natasha Ogunji lives and works in Lagos, Nigeria. Expanding on her performance practice exploring the presence of women in public space, Ogunji presented If I loved you. This poignant intervention wrestled with questions about physical beauty and its destruction, together with the dynamics of seeing and being seen.
---
2017 INTERACTIVE PROJECTS

With the intention of engaging the full spectrum of attendees at ART X Lagos, each year the Interactive Projects invite guests to experience new ways of artistic expression. In 2017, the Interactive Projects included three diverse and engaging art installations, curated by A Whitespace Creative Agency..

---
2017 INTERACTIVE PROJECTS
The Live Art Studio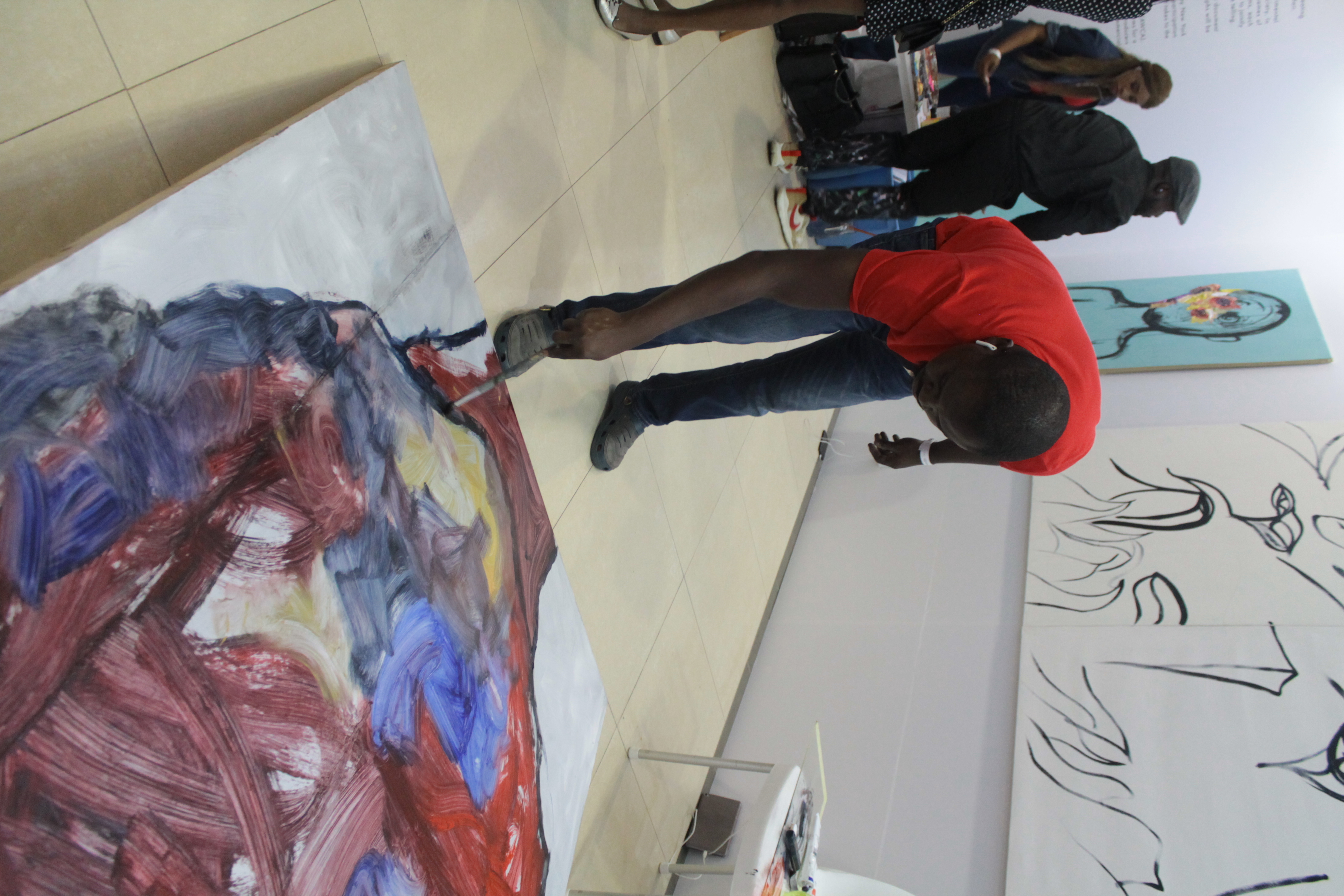 A 3-day interactive live studio performance where four young participating artists each created at least one piece of artwork, for the fair duration.
---
2017 INTERACTIVE PROJECTS
The Colouring Bus
An interactive art piece created by Olalekan Jeyifous which was fabricated onto a yellow Danfo bus, which members of the public engaged with by colouring it in, giving a unique and communal identity to a Lagos icon.
---
2017 INTERACTIVE PROJECTS
ART X Portraits
Attendees of ART X Lagos became the subjects of photographer Lubee Abubakar's body of work, in this portraiture series. The artist shot the audience in an unorthodox portraiture style, which was published as an aftermath of the fair.
---