2018 SPECIAL PROJECTS
Each year, ART X Lagos includes a series of Special Projects that highlight today's most experimental mediums and the multidisciplinary artists working in them. The practices of these artists often fall outside of commercial remits and conceptual considerations of contemporary life which further enrich the atmosphere of ART X Lagos.


2018 CURATED PROJECTS


Yinka Shonibare CBE
The 2018 Curated Projects focused on the keynote artist Yinka Shonibare CBE, who visited Lagos from London, and was celebrated with an exhibition exploring his career highlights.

Over the past decade, Yinka Shonibare CBE has become well known for his exploration of colonialism and post-colonialism within the contemporary context of globalization. Working in painting, sculpture, photography, film, and performance, Shonibare's work examines race, class and the construction of cultural identity through sharp political commentary of the tangled interrelationship between Africa and Europe and their respective economic and political histories. Having described himself as a postcolonial hybrid, Shonibare uses wry citations of Western art history and literature to question the validity of contemporary cultural and national identities.

---
2018 CURATED PROJECTS
Ben Enwonwu, Tutu (1974)
A highlight of the 2018 fair was the unveiling of Ben Enwonwu's world-famous 'Tutu' (1974), the painting's first public display in Nigeria in over 40 years. Loaned to the fair by Access Bank, the showcase of 'Tutu', which earlier in 2018 became the most highly valued work of Nigerian modern art ever sold at auction for £1.2 million ($1.67 million), marked a historic moment in Nigerian art history.
---
2018 INTERACTIVE PROJECTS

With the intention of engaging the full spectrum of attendees at ART X Lagos, each year the Interactive Projects invite guests to experience new ways of artistic expression. For the 2018 Fair, the audience were encouraged to participate in three diverse and exciting art installations, curated by A Whitespace Creative Agency.
---
2018 INTERACTIVE PROJECTS
The Live Art Studio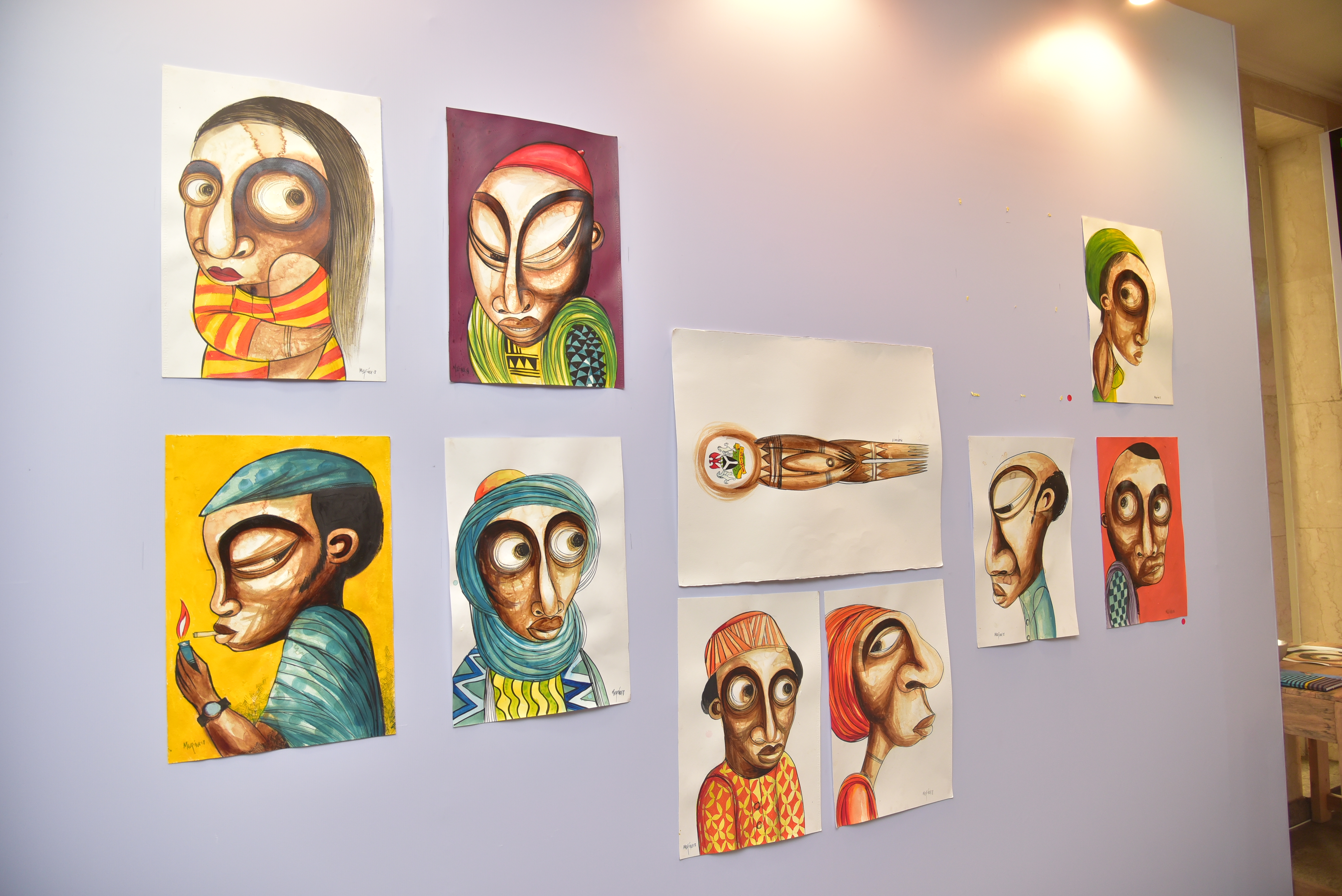 A 3-day interactive live studio performance where two participating artists each created at least one piece of artwork, for the fair duration.
---
2018 INTERACTIVE PROJECTS
Mad Horse City
A multimedia experience called 'Mad Horse City' explored a futuristic imagination of Lagos in the year 2115 consisting of a graphic novella, a series of imaginative vignettes and a set of virtual reality (VR) environments created by Olalekan Jeyifous and Wale Lawal. Guests time traveled to a new reality of the city of Lagos and were enchanted and intrigued by the stories of the near future.

---
2018 INTERACTIVE PROJECTS
Lagos Drawings
Sponsored by H2Oh!

'Lagos Drawings' was an Interactive Installation which combined digital technology, perceptible sounds and visual illustrations inspired by Lagos Textures created by a multidisciplinary collaboration led by Karo Akpokiere, and includes Desmond Okeke and G.rizo. This installation was an artistic representation of the present-day city.

---